So, I'm now into my last five weeks of Austria!
Came back on Easter Monday, after a good flight from Manchester to Munich and a train journey down to Saalfelden. I flew with
Lufthansa
,
for a reasonable €78 and they were AMAZING! Was really impressed with it all. Firstly, the air stewards were German, so gave instructions in German and English, something of a novelty after flying on Ryanair so many times! Secondly, the seats were weirdly small and thin looking, but INCREDIBLY comfy and there were not one, but TWO back seat pockets! In the upper one, there was an interesting magazine about Lufthansa as a company and the technology used in its planes, something I thought again was novel and entertaining, because the magazine usually contains info about destinations the company flies to and some out-of-date news. Next came the winner... FOOD AND DRINK!!! As mentioned before, Ryanair and Easyjet have been my airlines of choice lately, due to their low prices etc., but food is never included in the price, you have to pay double the normal shop price for Pringles, a Kit-Kat or a sandwich e.g. So getting a 'free' Thai wrap and orange juice was just SO special, I almost weeped with joy! Not only was it free, it tasted amazing!
After landing in Munich, I was certain a guy stood on the shuttle bus in front of me was a footballer. He had shades on, a bit of a mohican and a dyed blonde stubbley goatee and was also wearing a smart tracksuit (as smart as you can imagine) and some serious bling! I heard him speaking on the phone in English and French, asking if someone would pick him up from the airport (which seemed a logical, footballer-ish thing to do) and he reminded me most of Djibril Cisse... So, if you hear anything about Cisse moving to a Munich football team, let me know!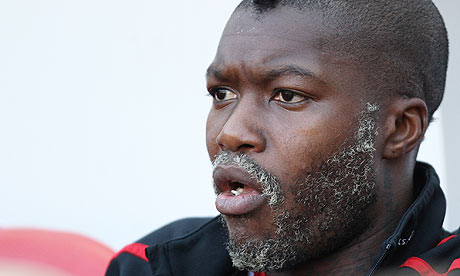 Was he on my plane?

I had planned to travel to Munich Hauptbahnhof then go to Salzburg and swap to Saalfelden but this cost €62! Well expensive, in my opinion! So went for the next train instead (which was actually a bit quicker) and swapped at Munich Ostbahnhof and then Wörgl (as usual!). Arriving at Munich Ost, I bumped into one of my teachers, who was also travelling home to Saalfelden. What a coincidence, eh? So chatted with her the rest of the journey back, which defo made the hour wait in Wörgl go a lot quicker!
I also managed to share a taxi back to the HIB with some schoolkids so was a lot cheaper than usual :) awesome!
After a long journey, I was totally knackered and went to bed fairly early, even though I knew I didn't have any lessons the next day.
And this is where I have a slight moan! Not had any lessons since being back yet, and don't have any tomorrow. WELL ANNOYING! Could've stayed at home another 3 days... Ok, I did miss one lesson on Tuesday, but that's because it isn't a regular lesson, I had no note of it in my diary or on my timetable and there must have been only a verbal 'agreement' that lasted 5 mins of the last week here, as there was no email suggesting it or reminding me to attend the lesson! ARGH!
So have instead been using my time to write my essay. I say writing my essay, I have instead been a bit distracted by the internet, rewatching Doctor Who from Saturday
LINK: The Impossible Astronaut (6x1)
as well as other things i.e. playin Monopoly Millionaires on Facebook... :S O well. At least the lack of 'work' means I can 'work' on my essay.